The Honda Factory Warranty
3-Year 36,000-Mile Limited Vehicle Warranty:
All new Honda vehicles are covered by a 3-Year/36,000-Mile Limited Warranty, plus a 5-Year/60,000-Mile Powertrain Limited Warranty.

5-Year/60,000-Mile Powertrain Limited Warranty:
All new Honda vehicles are covered by a 3-Year/36,000-Mile Limited Warranty, plus a 5-Year/60,000-Mile Powertrain Limited Warranty.

Accessory Limited Warranty:
All Honda Genuine Accessories are covered for 3 years or 36,000 miles when installed at the time of new-vehicle purchase.

Replacement Parts Limited Warranty:
Honda Genuine Parts are covered for 1 year. The warranty coverage for replacement parts purchased from and installed by a Honda dealer includes parts replacement and labor.

5-Year Unlimited-Miles Corrosion Limited Warranty
Roadside Assistance
24-hour emergency road service available in the United States, Puerto Rico and Canada; valid during the 3-Year/36,000-Mile Limited Warranty term for model-year 2015 and later vehicles. Services include jump-starting, flat tire and lockout assistance, towing, and more; limitations apply. Call (866) 864-5211 for assistance or details.
Genuine HondaCare Extended Coverage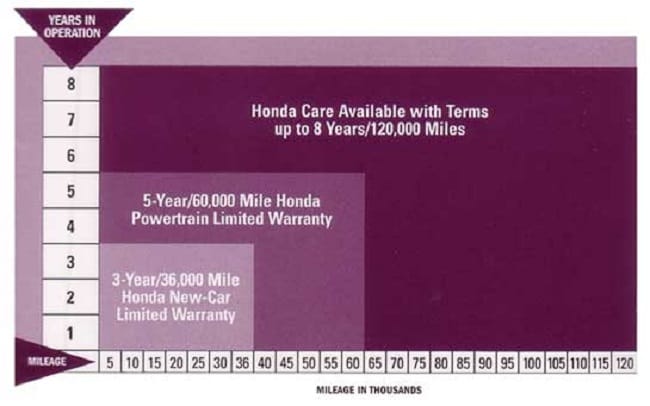 Protect your Honda with a Honda Care Service Contract
A Honda Care Vehicle Service Contract is the closest thing to your original Honda 3 year/36,000 mile Manufacturer's Warranty. The Honda Care contract is backed by American Honda Motor Corporation.
Route 23 Honda is an authorized dealer of Honda Care VSCs. We have been a Honda Dealer for over 25 years. 

What is a vehicle service contract or extended service contract?
Most new vehicles come with a 3-yr/36,000 mile bumper-bumper (comprehensive) manufacturer's warranty. Once that warranty expires, Vehicle Service Contracts (VSC) take over - if you have one. A manufacturer's warranty provides for repairs of coveredd componenets during a specific period of time or a certain amount of miles driven. 
What's the most important thing I need to know about an extended service contract?
It is important to know the company that is promising to pay you if your car breaks down. A contract is only as good as the company that backs it. Used vehicles are administered through Allstate and administered by Pablo Creek Services Inc and is also the underwriter. New vehicles are administered by NWAN Inc and is also the underwriter.
Do I really need an extended auto warranty?
Considering the average hourly rate for mechanic labor is over $100/hour, labor alone can be a smart reason to have an extended warranty. When you also consider how expensive parts and systems can be to fix, the choice becomes quite clear.
Can I take my vehicle anywhere for repairs?
Yes, you can choose any dealer, national chain, or local mechanic that will honor the terms of your vehicle service plan (extended warranty contract) and are authorized by your plan to do the repair work. Work performed by an unauthorized repair facility will not be covered
Because of the level of training of our Route 23 Honda Certified technicians, we encourage you to do whatever you can to make it to our shop. We want to know that you are well cared for and we can't guarantee that with other repair facilities.
If you trade or sell your vehicle there are two options. You may transfer the policy to the new owner (for a small fee) or you may cancel your coverage be refunded a pro-rated amount less a small cancellation fee. You can then use the pro-rate refund as a down payment on coverage for your next vehicle so you are always protected.


What if I sell my car? Is my contract transferable?
Yes. The contract is transferable. While the existence of a vehicle protection plan will not impact the "blue book" price of a car, potential buyers of your car will certainly feel far more comfortable buying your car if it has an extended service contract. A service contract may not increase the resale price, but it may sway a buyer to purchase your car instead of another car which is not covered.


What is Wear and Tear coverage?
Many vehicle protection plans exclude repairs needed due to "wear and tear." A large number of car repairs are needed because a part wears out from a long period of use, not because it was poorly built. Many vehicle protection plans define "mechanical breakdown" as a defect in parts and workmanship as supplied by the manufacturer, or a defect that makes the part unable to perform the function for which it was designed. Often, they will state that the gradual reduction in operating performance (wear-and-tear) is not covered. Service contracts that exclude wear and tear will not cover repairs needed because a part's performance has gradually deteriorated because of normal wear and tear, unless a mechanical breakdown has occurred. The more miles on a car when a repair becomes necessary, the more likely it is that the repair will be needed because a part wore out, rather than because the part broke due to poor manufacturing. Again, many after vehicle service contract or extended service contract protection plans do not cover parts that wear out.
What Types of Auto Warranties are there?
Power-train Warranty -

Covers the engine, transmission, and other parts of the drive-train (What is referred to as the powertrain) only, which is defined as the 29 parts of the vehicle through which oil flows. These are the parts least likely to fail.
Bumper to Bumper -

Covers nearly all the mechanical systems of the vehicle, from front bumper to back bumper, except for those on the "exclusion list" -- parts that are NOT covered by the extended auto warranty. It is frequently easier for a customer to see a short list of items that are not covered and know that everything else is. 
Named Component Warranty -

Covers the major mechanical systems of the vehicle from mechanical breakdown and mechanical failure. If the part is not listed, it's not covered by the contract.
Roadside assistance and travel reimbursement plans can be offered as part of the extended auto warranty package. Some service contracts even offer free lodging and meals if your vehicle breaks down on a trip. Know all the details of your plan before you leave the dealership.
Why buy vehicle service contract now, especially if I have a manufacturer warranty?
Just like health insurance or life insurance, the better shape your vehicle is in when you obtain coverage, the better your rates and pricing will be. It actually costs far less to extend the warranty on a newer vehicle that is in great shape than it is for an older vehicle that will need a lot of repairs.